Met up with the SW Houston crew at Starbucks in Sugar Land to head down to Ingleside for lunch.

This cute doggie was in the drive-thru line waiting for his morning java.


The sky was grey and would remain that way for quite a while.
In Palacios, Duke (dixonduke) joined us and fell in line with the gang. The sun finally started to appear.
We were only ten minutes late for the pie run, but apparently everyone else was early.
(Photo courtesy of Gilk51)
(Photo courtesy of M38A1)
(Photo courtesy of M38A1)
Scott (M38A1) put his map making skills to the test.
It was good to see Scott (bluedogok) and Naomi again.
(Photo courtesy of Jbay)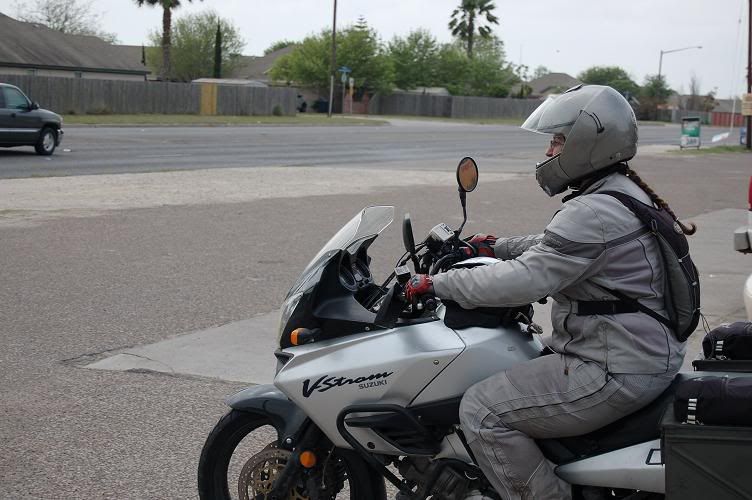 Kurt (txmedic) was heading back across the ferry after lunch, so James (jar675) and I followed his lead to check out the potential for camping on the beach near his hotel.
Once across, we spotted a photo op that I just couldn't pass up.
We wandered onto the beach and I waved James ahead, since his XR was more suited to the conditions than my Strom. I guess once I was following him, I forgot I wasn't on the XR with knobbies.
I got going a little faster than I wanted to be going, so I deployed the outriggers and either
a) grabbed the clutch
b) chopped the throttle
c) grabbed the front brake
d) a&b
e) a&c
f) all of the above
The front tire plowed into the sand and took the bike down on its left in what felt like half a second. I remember launching up over the front right of the bike head first and hitting the ground on my right arm/shoulder and rolling over to my back then back to an almost seated position.
I caught my breath and raised my arm so Kurt would see I was ok, then started moving limbs and joints to make sure they were all there and still working. The first thing I remember hurting was a burning sensation on my right elbow/forearm. I was wearing mesh gear, and as I hit the sand it came up into the jacket and rubbed against me while I rolled. As I got up and got my jacket off, I noticed some light red marks in the area but it was just a light abrasion. My elbow was hurting a bit, but I had full motion.
Kurt and James got the bike righted (I heard some grunting, yes - the beast is heavy when it's loaded for camping!) and rolled out of the path of beach traffic. A quick once-over showed I'd knocked the right blinker stalk loose, but the blinker cover was recovered from the sand and reattached. The wiring was all in tact. Kurt noticed the brake lever/handguard assembly being a bit out of whack, which we later adjusted back to a comfortable position.
The top mounting point on the luggage rack that accepts the lock from my pannier was damaged, so the lock could no longer keep the bag in place. I dug out a tie wrap I keep under the seat and slung it around all four handles of the bags to keep the left one on with tension from the right one. It wasn't pretty, but it would do and I could still get in and out of the panniers.
We got some offers for help from passers-by checking to make sure I was ok. One couple that was walking on the beach said they saw everything and told me I rolled quite nicely.
James said that he didn't see anything in his mirror, but he knew something had happened when he heard my engine rev real high.
I programmed Kurt's number into my phone in case we needed it, then said goodbye to find ourselves somewhere to pitch our tents and get some campfire dinner started.
We rode down the island and stopped in at Mustang Island State Park, but the camping area had loose, deep sand that I didn't want to attempt to cross. The day use area didn't look bad at all, and it had a parking lot and picnic tables.
We continued south to Padre Island National Seashore. Between James' State Parks Pass and my National Parks Pass, these check-it-out trips weren't costing us anything.
The National Park area had too many RVs and generators, so we decided Mustang Island was it for us. We headed back to the grocery store over the bridge in Corpus and loaded up on food and drink. By this time, mother nature was just being cruel - there was a steady drizzle that only let up while we were inside the store.
We picked up some firewood from the gas station so we could grill some steaks and potatoes.
Well we couldn't make a fire. We tried EVERYTHING - fire starter gel, paper, tissues, even gasoline. We'd get a minute or two of flames, but they were no match for the wind and rain. I pan fried the ribeyes, added them to the seasoned potatoes and onions, and called it dinner.
The wind was going strong most of the evening, but it calmed down enough to lessen the threat of collapsed tents while we slept. I think a few stars even appeared before bedtime.
Knowing I'd be sore from the fall, James was kind enough to let me sleep in until a little after 9am.
We wet for a walk down the beach, and I brought my camera.
The water was cold, but inviting. We walked out onto the jetty and got splashed by the crashing waves.
It was warm out, but not 'summer hot' yet. I guess I didn't realize how long we were out there walking, but I'd forgotten to put on sunscreen. I made breakfast tacos with scrambled eggs and the remaining meat & potatoes from dinner, then we started packing the bikes for the ride home.
James mentioned I was starting to turn pink and suggessted I put something on over my tank top to block the sun.
As we left the island, we headed back across the bridge to Corpus Cristi. It was much less intimidating without the wind, rain, and fog like the night before.
I wanted to go see the big boat. (Yes, Lady Lex - but I called it the big boat) so we headed back towards Ingleside.
Gettin' artsy...
We headed back up the coast, this time with no plan other than to eventually get back to Houston.
More bridges.
I saw a sign for the Aransas National Wildlife Refuge and wondered what it was. It was still mid-afternoon, so we headed the way the signs pointed and eventually got there.
The visitor's center was closed, but we looked around and took a break. It was here that I got my first look at my sunburn in a mirror...
While I was putzing around taking pictures of flowers and scenery, James said "Hey, look at that!" I turned and almost jumped out of my (burnt) skin.
I was just amazed at the size of this thing. I'm a city girl - and even though I live in a bayou city, I'd never seen a gator up close. I was nervous, but stayed safely behind the bikes and just kept snapping pics until he was across the parking lot.
While heading for home, mother nature opened up the skies and let it rain down. Unlike the night before, this time I pulled off the road and donned my rain gear so I'd be slightly less miserable for the rest of the ride. I was getting chills and was in pain from the sunburn, and exhaustion was setting in. My shoulder and arm were getting stiff, and fighting the gusting wind wasn't helping matters.
One last stop at Jack In The Box to refuel our bodies before the final 70-mile stretch for home. I welcomed the air conditioning blowing on my shoulders.
My weekend has now been dubbed "crash and burn"